Nag-Champa-Duftöl, 1/2 fl oz (15 mL) Tropfflasche
Unser Preis:
€ 2.46
(25% Rabatt)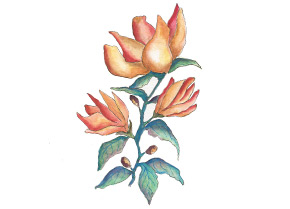 Lose yourself in the timeless exotic scent of Indian incense with our Nag Champa fragrance oil! The scent belongs to a family of Indian incenses known as champas, which includes fragrances similar to champa—or plumeria—flowers. Nag champa, which is perhaps the most popular, ties in the scent of cannonball tree (Couroupita guianensis) flowers—commonly called naga, which means "serpent" in Sanskrit—with notes of sandalwood and frankincense. If you love bold, earthy scents such as patchouli, dragon's blood, sandalwood, and amber, you're going to fall in love with our Nag Champa!
Fragrance
A rich, exotic scent, with resinous hints of frankincense, sandalwood, and dragon's blood
Flash Point
275°F
History of Nag Champa
In the United States, Nag Champa is closely related to hippie counterculture and was a significant scent beloved in the 1960's and 70's. However, nag champa has been treasured by the people of India for generations before it made its way to the Americas. It is traditionally used to create incense, which is burned during meditations and can usually be found in temples. Nag champa is so significant in Indian culture that the cannonball tree from which it's earned its name is considered sacred to Hindu people.
How to Use Nag Champa Fragrance Oil
Add the exotic aroma of nag champa fragrance oil to your candle making, incense, potpourri, soaps, deodorants and other bath and body products!
To learn how to make your own unique homemade candles using Nap Champa Oil, check out this simple step-by-step on The Pipe Line!
PipingRock's Promise:
We proudly offer you everything you need for an advanced, daily Aromatherapy regiment at the lowest cost in the industry! From Essential Oils to Carrier Oils, Diffusers to Blending Bottles, Beeswax, Books & more, we have you covered. With over 100 Essential Oils to choose from, you can create your own homemade scents and beauty products. Enjoy various blends & Essential Oils Sprays or experience our revitalizing, botanical Massage Oils!
About PipingRock's Quality:
You've found your One-Stop-Shop for Aromatherapy products at PipingRock. Our Essentials Oils are crafted in our own "GMP Certified" manufacturing facilities. We verify PipingRock products with third-party, FDA-registered agencies to ensure quality. Each product goes through hundreds of checks, in-process and post-production. Our outstanding Essential Oils are GCMS tested to deliver guaranteed purity. We offer various 100% Pure Essentials along with other popular, unique blends. We guarantee purity, potency, safety and innovation in everything we do.
Andere Größen
Ähnliche Produkte